Reliable Trane Air Conditioners
Since the beginning, Trane has been regarded as one of the most reliable names in the heating and cooling industry. They partner with some of the best individuals in the industry to produce their products. The combination of their high-quality products and the experienced technicians they employ makes them stand out from the rest.
Since it's hard to beat a brand like Trane, it's no surprise that Trane is considered a favorite brand. Having a reliable product is important for any company, especially during sweltering temperatures. Because of how durable and predictable the products of Trane are, consumers appreciate how easy it is to maintain their HVAC units. Also, since Trane units are so common, finding replacement parts is as effortless as asking a technician to service your unit. The combination of their products and services makes buying a Trane a favorable experience.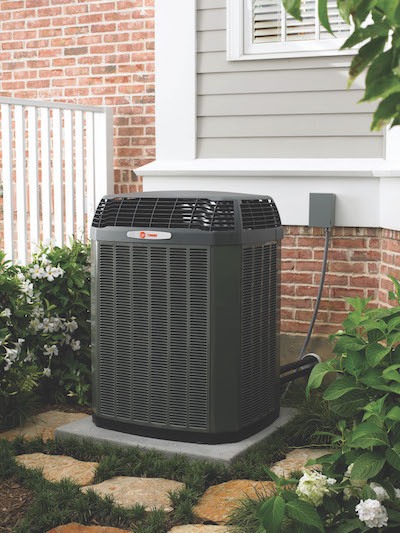 Here are some benefits to Trane Air Conditioners:
Variable speed blowers match cooling needs
Easy access controls and filters
Extra large coil surface for more efficient heat transfer
Insulated cabinet controls heat loss
Standard-sized filters allow for quick and easy changes
Steel or Weatherguard II tops for protection
TRANEBuilt in filter drier keeps moisture out of your A/C lines
Climatuff compressors backed by 10-year warranty
All-Aluminum coil for fast heat transfer
DuraTuff baseman for stability and support
Paired with Trane air handlers, these Trane's A/C coils and compressors make the ultimate in-home cooling. Varying sizes exist to meet your cooling needs, but all are efficient, quiet, and affordable.
Trusted Amana Air Conditioners
If you are looking for a high-quality air conditioner that will allow you to keep your home comfortable, while also saving you money, then the Amana air conditioners are a great choice.
What makes Amana air conditioners stand out?
The air conditioners are designed to operate at extreme efficiency and come with a variety of features.
Amana units can automatically adjust their temperature to remove heat and moisture from the air.
They can also be programmed to operate at a specific speed.
Its high-quality construction and low maintenance capabilities allow it to provide you with long-term peace of mind.
Unlike other brands, the equipment made by Amana is more affordable to install and purchase.
Its high-quality products and features, such as dual-stage compressors and R-410A non-chlorinated refrigerant, provide you a level of comfort you haven't experienced before.
Compare the features and benefits of an Amana brand central air conditioning system and you will discover why more and more homeowners choose the Amana brand. To find the highest efficiency air conditioning system for your home, look for the higher SEER numbers.